---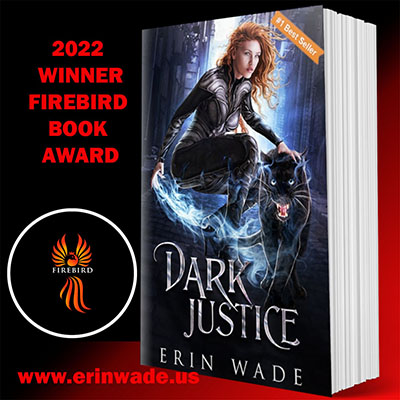 Follow Erin Wade Blog
Wading Through It!
Les Be Cooking with Erin Wade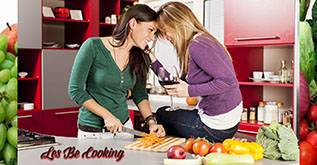 Trade recipes with other cooks in our community
on our Face Book Page.
---
Erin Wade Bio
Erin Wade is a #1 Best Selling Lesbian Action/Adventure/Romance author. With a degree in accounting, I set out to conquer my quiet little corner of the world. My plan was to work for a major accounting firm and live a comfortable life.
One never knows where fate will lead. I soon discovered I liked taking chances and started acquiring small parcels of land to resale. Within a year, I found myself immersed in the fun of land brokering. My native state, Texas, is a wide-open community of wonderful people and vast amounts of land. Opportunities in Texas are limitless. Texas and the fact that I'm a workaholic were the perfect recipe for success.
My wife and I make our home in Austin, Texas. Thanks to her my life is an adventure of love and laughter. She encouraged me to begin writing. I published my first book in 2014 and my first Lesbian novel in 2017. I have been successful in the Mystery/ Suspense genre. All of my Erin Wade books have been #1 best sellers in the U.S. and internationally. Thank you so much for making it happen.
Click Here:
To visit Erin Wade author's page
on Amazon
---
Erin Wade Erin Wade Erin Wade Erin Wade Erin Wade Erin Wade Erin Wade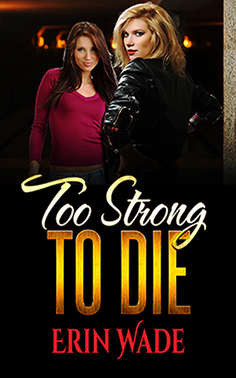 Too Strong to Die
Available on Audio 11hrs-34min

Don't miss this epic tale of two women fighting for their beliefs and trying to find common ground in their personal lives. One reviewer called this fast paced, action romance, "Die Hard for Lesbians." Texas Ranger Ricky Strong is chasing a vicious serial killer that has left no clues. Her life becomes more complicated when one of the victims is the missing sister of ultra-conservative Senator Christine Richmond. Their lives become more entwined when Ricky is assigned to protect the headstrong senator on her goodwill tour of the Texas border. The President gives Senator Richmond the impossible task of working with the Mexican government to build the wall along the Texas border. A task that puts her in the crosshairs of the Mexican drug cartel. Ricky and Christine embark on a journey that is sometimes dangerous, sometimes funny, but always exciting and hair-raising. The two strive to maintain their "friendship" as they become embroiled in situations that could destroy their careers. The two face life and death as they battle to keep each other alive.Fast action and romance make this one of the top romantic thrillers of the year.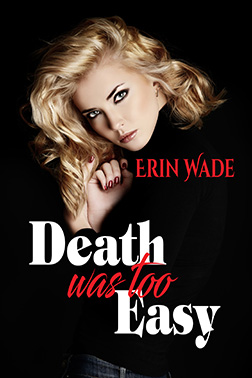 Death Was too Easy
Available on Audio 6hrs-33mins

The court orders brilliant defense attorney Mandy Kincaid to handle the death penalty appeal of Lisa Mercer, a woman accused of killing her three small children. Mandy uncovers evidence that proves the woman is innocent. Mandy's biggest problem is that Lisa insists that she did murder her children. Femme fatale Jordon Kiser is the owner of the top private investigation firm in town. Mandy hires her to uncover the truth about the deaths of the children. As Jordon works closely with Mandy, the beautiful detective awakens feelings that surprise and terrifies the defense attorney. Ambitious Assistant District Attorney Rick Randolph is determined to convince the jury that Lisa is guilty of the heinous crime. While fighting to see that the young mother receives the death penalty, Rick finds that he has fallen in love with Mandy Kincaid. Torn between a puritanical world where women marry men and her desire to be with Jordon, Mandy's professional and personal life is turned upside down as she and Jordon race the clock to save their client from death row. A volatile love triangle, an implausible killer, and twisted twists make this one of the best suspense romance thrillers of the year.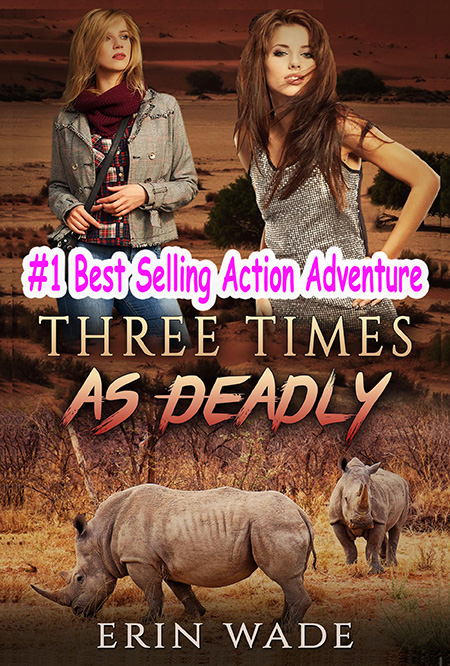 Three Times as Deadly
Available on Audio 7hrs-48min

When Sloan Cartwright awakens in an African hospital with no memory, she is astounded to find three beautiful women claiming to be her wife. An attempt on her life makes her realize that her biggest problem is not which woman is her wife, but who wants to kill her and why. She discovers that she holds secrets that will topple governments and bring down illegal poachers in Africa. The only problem is that Sloan can't remember where she hid the evidence. Sloan quickly realizes that she must trust one of the women to help her escape Africa. Which one will it be? Wife Number One: Amarosia (Amy) Cartwright, a beautiful Halle Berry look-a-like who tells Sloan that they have been married for five years and make their home in Africa. Wife Number Two: Leigh Redding Cartwright, blonde, wholesome, girl-next-door beauty who obviously adores Sloan and claims they have been married for seven years and live in New York. Wife Number Three: Alexandra Roland Cartwright, gorgeous international business mogul who has flown into Africa to take her wife home with her. Sloan isn't sure it is her the women want or the evidence she has hidden. You will laugh and cheer for Sloan as she juggles the three beauties while trying to stay alive and escape from a country where everyone wants her dead.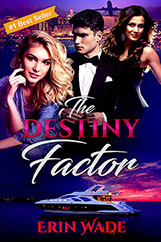 The Destiny Factor
Available on Audio 6hrs-1min

Renny James thought she was falling in love with her boss then she met his wife. Renny was totally unprepared for the beauty and charisma of Vivian Rockmore. The electricity between the two women was undeniable but too many obstacles stood between them. We are each the master of our own destiny, aren't we? That was the mantra of Renny James as she fought her way out of poverty and rose to the ranks of the rich and glamorous. Clean sheets were Renny's criteria for success. A brilliant student, she knew a college education would get her out of the horrible poverty in which she lived. Nothing would stop her from achieving her goals. Determined to distance herself from the filth and hopelessness that marked her youth, Renny worked hard and wasted no time on things like family or friends. Raised by a mother whose only thought was about where she would find her next boyfriend, Renny learned to fend for herself. She knew education and hard work were her tickets to a better life.
Brad and Vivian Rockmore introduced Renny to the world of beautiful people, cruise ships, and private jets. At twenty-eight, Renny had realized all her goals. She had no idea her ambition would land her in jail for murdering the only person she had ever loved. Erin Wade takes the reader on a fast-paced ride in her murder mystery/romance with a twist. If you like a good suspense-filled novel, you will love The Destiny Factor.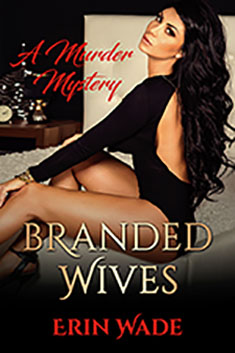 Branded Wives
Available on Audio 7hrs-36min
Detective Ash Denton and her forensic psychiatrist wife Lana are baffled when beautiful women in their town are targeted by a serial killer. The killer brands each woman that dies. Unlike the movies, the case load of Mrs. and Mrs. Denton isn't just the Branded Wives case. Follow Ash and Lana as they track an internet pedophile ring, a drug cartel and the killer of a young prostitute. Ash faces death daily, but learns the true feeling of fear when the serial killer targets her wife, the woman that makes her life worth living
Coming for
Christmas Dec. 14, 2023
from Erin Wade
---
COMING SOON
1/29/2024
from Erin Wade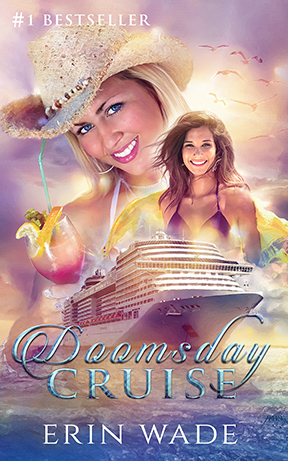 by Erin Wade
Join Major Ricky Strong and wife, former Texas governor Christine Richmond on their first all-lesbian cruise. Erin Wade's main characters from the "Too Strong to Die" join a cast of intriguing and dangerous women on this week-long cruise of the Caribbean. Below is the first chapter of "Doomsday Cruise."
Chapter 1
Captain Stacy Barrett watched as passengers of all sizes and ages boarded her cruise ship. "Uh, oh," she mumbled out loud watching two extremely beautiful women laughing and talking as they waited to go through the security check.
Barrett was used to single, needy women in search of mates taking her Caribbean cruises. None were as beautiful as the two currently standing at the check-in desk. Obviously, some travel agent had made a grave error. Inhaling deeply, Captain Barrett approached the two beauties, introduced herself and asked them to come with her.
"What's wrong, Captain?" the blonde woman asked.
"Nothing is wrong," Barrett smiled her best public relations smile. "I think you have inadvertently been booked on the wrong cruise." Although I certainly wouldn't mind looking at you two for the next seven days, she thought.
"Doesn't this cruise take us to Key West, The Bahamas, Jamaica, Cayman Islands, a two-day layover in Belize, then back to Galveston?" the gorgeous brunette inquired.
"Yes," Captain Barrett blushed slightly, "but so does the ship departing from dock four. I believe that is the ship you should be boarding."
The brunette pulled their tickets and itinerary from her purse and studied them for a moment. "Isn't this the Gala Lady?" She frowned as she handed her tickets to Barrett.
Barrett turned a darker shade of red. "Yes, but this is a lesbian cruise," she blurted.
"Ah," the tall blonde smiled slightly. "They have booked us on a lesbian cruise."
"What," the brunette scowled then began laughing. She gently took her papers from the captain's hands, folded them, and replaced them in her purse. "My wife and I are on the right ship, Captain."

Christine Richmond fell back onto the bed laughing. Her partner frowned, then joined in her merriment.
"Can you believe the first ship our company builds for the cruise line industry caters to the lesbian community?" Christine laughed.
"Somehow, it seems right that you developed the cruise ship division and our flagship's maiden voyage is one for lesbians." Ricky Strong grinned. "Although I must admit, I'm not thrilled about taking you into a hotbed of lesbians."
"And why not?" Christine murmured as she kissed her wife's lips.
"I will spend the entire cruise fighting off aggressive women who are attracted to you." Ricky flipped her gorgeous wife onto her back and looked down into the dark eyes that had captivated her soul years ago.
"We're both wearing wedding rings." Christine's eyes sparkled as Ricky gently caressed her. "That lets the world know we are off the market."
"There are those in both the hetero and homo segment who consider a wedding ring on a beautiful woman a challenge." Ricky moaned. "What are you doing?"
"Reminding you of why you wear that ring." Christine grinned as she pulled the blonde down for a long, scorching kiss.
"Believe me, all I have to do is look at you to know why I'll never stop wearing this ring." Ricky slipped her hands beneath her wife's pullover, easily pulled it over her head, and expertly unfastened her bra.
"Oh, God," Ricky whispered caressing Christine's body. "I love your breasts and your lips and your—"
A loud knock at their door interrupted their love making.
"Shush, be quiet," Christine said breathlessly. "They'll go away. I'll die if you stop now."
The insistent knocking continued. "Please open the door," a voice pleaded. "I need help."
Ricky pulled her shirt over her head and slipped back into her slacks. "Just a minute," she yelled as she walked across the stateroom.
Ricky opened the door and a young woman fell across the threshold landing face down on the carpet. The former Texas Ranger didn't need to take her pulse. Ricky knew a corpse when she saw one.
---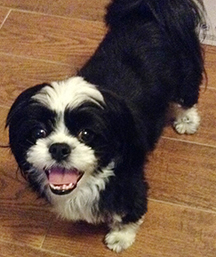 This is my little dog Tank. He was my
inspiration for Troy Hunter's dog Charlie, described in Too Strong to Die. Serial killer, Troy Hunter used Charlie to troll for women on Facebook.
Who wouldn't respond to a photo this cute? Tank is a Shih Tzu/Chihuahua cross. He is the sweetest little guy in the world.
He constantly sits by my side while I write.